Halloween Movie Night Ideas
---
It's that time of the year again! Halloween cheer is here and you must instantly spread it. The best part about Halloween is being able to turn your old boring home into the dwelling of ghouls and ghosts. Before you provide your guests with some horror and thriller films creating an atmosphere that aligns with the movie is imperative for a great time. Changing the environment opportunity will instanty make your daily walks to the kitchen feel unique and in the spirit of the holidays. Halloween provides the decorator with any opportunity to add some spooky vibes wherever they'd like to. Here are a few great movies to put on and enjoy the spirit of Halloween.
---
---
Yescom Inflatable Halloween Pumpkin with Lights Giant Halloween Inflatables
Need pumpkins but hate the way they spoil quickly? Now, with our inflatable pumpkins, you'll be able to show off your mini pumpkin patch that will be glowing from a distance. The heartwarming catching glow of the lights will make the entrance of your home heartwarming for those who get to witness the pumpkin family. These pumpkins will add a great addition to any yard. It will provide an eye-catching view from any pedestrian on the street gathering their bounties for candy. A great decoration tip for these pumpkins is to pair them with real pumpkins and jack o lanterns which will add a scenic view of realism and naturality. They are very lightweight therefore allowing you to move them wherever you like without having to carry a huge load of decorations. It also comes with a self-inflating fan allowing you to just set it up and relax while it inflates to its full glory.
---
Yescom 10Ft Halloween String Lights Orange Pumpkin 20 LEDs
add to cart
A life-size skeleton is the ultimate Halloween prop due to its versatility. You can hang the skeleton by a tree, roof, or garden to provide some undead nightmares to any trick-or-treaters.
Want to play a prank on someone? Whoever is asleep in bed place the skeleton nice and tucked into the blankets so that whoever is sleeping would have a nice surprise to wake up to.
Need an extra hand? Have the skeleton near a door way so that when guests enter the first thing they'll see when they walk through the doorway is a boney experience they won't forget.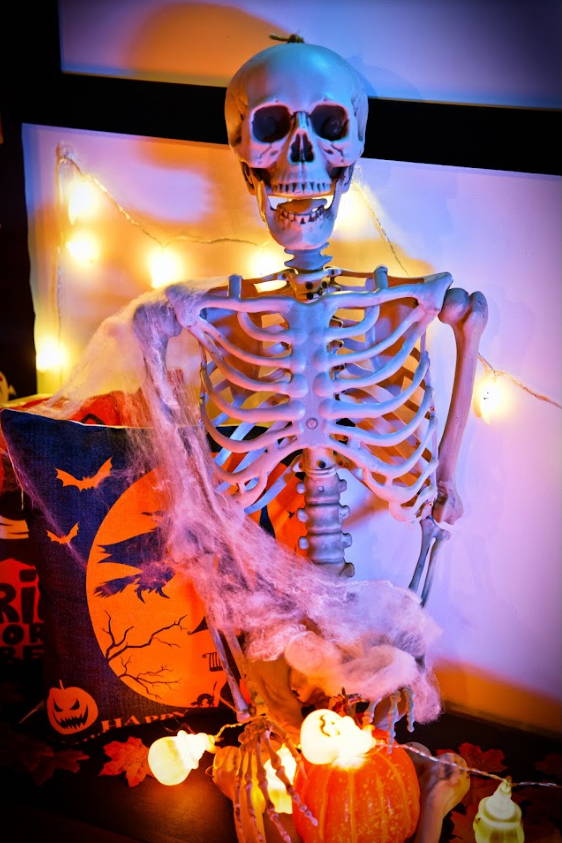 ---
Who said being scary isn't groovy? Bring the dance party into the world of horror and create the ultimate Halloween costume party. A disco ball is a perfect decoration to immediately draw people onto the dance floor. Pair it with songs such as "Monster Mash" which will solidify you as the greatest Halloween party host.
Another great prop to pair the disco ball is our Yescom Fog Maschine allowing the dance floor to become filled with low dense fog. This will add to the thrill of not knowing what is under you as you disco-dance your way across the dance floor.
---
We all know that during these times, the new normal is different. Step into the new year better than ever before. Honor the time you have with your loved ones, safely, and remember- a little creativity can go a long way.
Don't burn out this summer! Enjoy our summer safety time and summer activities for adults in the best way possible. Take the time to review our home and outdoor collection! You can save more on our summer collection be sure to join our Yescom Rewards Program. Learn about our new deals, releases, and promotions when you follow us on Facebook and Instagram! Get connected and be prepared for the summer!
Save on purchases when you join our Yescom Rewards Program.
Here is how it works
PURCHASE- Earn 1 Reward Point for every $1 spent at Yescomusa
SAVE POINTS- Rack up points.
100 points=$5 off coupon
200 points=$10 off coupon
500 points=$25 off coupon
START SAVING- Turn in your coupons to save on future purchases! Points never expire, so you can redeem them as you like
Follow us on Social Media for more Coupons, Savings, and Announcements.
Like what you read or want to see more of a product? Leave us a comment!