Top 5 Spookiest Horror Movies 
We all know that Halloween 2020 is going to be different, but that doesn't mean that it still can't be great! This year, our Halloween activities may be limited but a good movie is always in style! With so many horror movies out there, you may have trouble narrowing down your options! That's why Yescomusa is narrowing down the list of horror movies you need to watch this Halloween! 
Halloween is a classic horror film that was first released in 1978. The film tells the story of Michael Myers, a serial killer who murders his parents, gets institutionalized, and later escapes as an adult. Myers eventually goes on a killing spree. The movie toes the line between the supernature and reality as Myers appears to be unkillable. Myers seems to be unstoppable giving room for many spin-offs that will keep you entertained for hours! 
 Nightmare on Elm's Street
Freddy Krueger is one of the most famous horror movie villains of all time. He is known for his witty comments, creepy nails, and killer style. Not only is Freddy Krueger a vicious murderer but he has supernatural powers and has the ability to enter the dreams of children. 
The Exorcist is considered to be one of the scariest movies of all time! The film is based on the novel by William Peter Blatty of the same name and tells the story of a possessed child. The Academy Award-winning film takes the viewers on a journey as two priests risk their lives to free the child from this demonic spirit. The film is known for its special effects and thrilling shots! 
Tobe Hooper's first feature film, Texas Chain Saw Massacre (yes, the proper way to spell the original film's title is with "chainsaw" as two words) is a grimy piece of horror history. In TCM, a group's car breaks down on a trip across Texas and they're terrorized by Leatherface, a psychopath wearing human skin, who eats the flesh of his victims and uses their bones as accessories. Brutal, raw, and controversial, Hooper had every death takes place offscreen thanks to clever editing and sound design. 
Saw received mixed reviews when it was first released. Many critics saw it as just another cheap, gory entry into the horror market, but the film overcame its "torture porn" subgenre and secured James Wan as a creative master of simple horror. Two men find themselves chained up in a dilapidated bathroom with instructions on how they can escape. It sets up a dangerous game that requires various captives to partake in games that pit their own selfish needs against consideration for others.
Create a Home Theatre with Yescomusa 
Enjoy Halloween 2020 with a good old fashion scary movie! Upgrade your home theatre with a high quality HD projector! We all know that this Halloween is going to be different this year, but let us make it one to remember! Either plan a scavenger hunt, create a drive-through Haunted House, or just celebrate with a small group at home. Whatever you do, Yescom just wishes you a safe holiday. Start decorating your home now! Check out our spooky Halloween collection and get inspired by our merchandise!
Halloween Deep Fried Snacks | Fried Cheese Eyeballs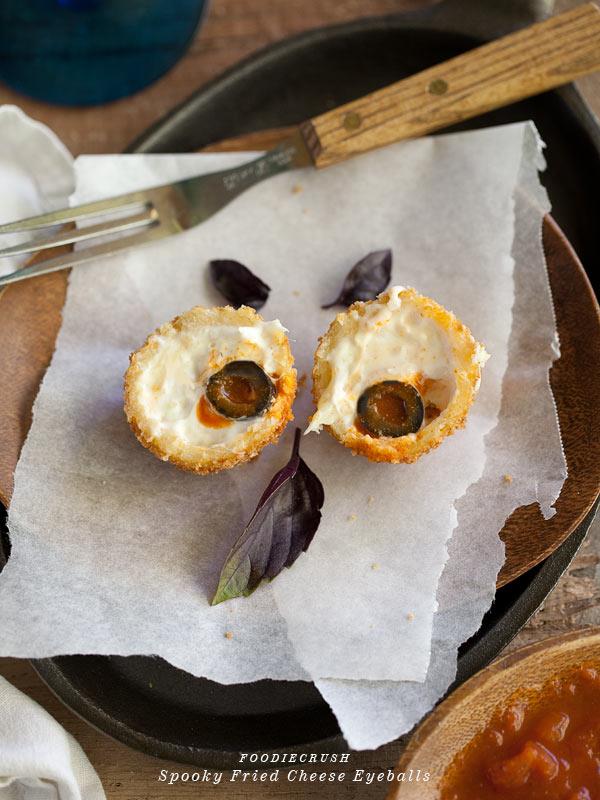 There is nothing more tasty than delicious and tasty fried foods! Halloween gives us the opportunity to be creative with our food! It's time to try these delicious fried cheese eyeballs! The simple and easy recipe is as follows:
Ingredients
1 8- ounce package cream cheese at room temperature

1 cup shredded mozzarella cheese

3 green onions whites only minced

3-4 tablespoons Chohula or Frank's Red Hot Sauce

10-15 small black olives

¼ teaspoon kosher salt

½ cup flour

2 eggs

1 cup panko bread crumbs

3 cups canola oil
Directions
Step 1. Mix cream cheese, mozzarella, and the white of green onions in a large bowl. Use an ice cream scooper to scoop out the cheese mixture.  Stick an olive in the middle of the cheese, hole side up. Fill the hole with hot sauce then cover with a spoonful of the cheese mixture. Mold into a ball and drizzle with more hot sauce. Repeat until mixture is complete.  
Step 2. Heat Old in deep fryer to 350 degrees 
Step 3: Collect 3 shallow bowls. Fill one bowl with flour, one with whisked eggs, and the last with panko bread crumbs. Dip a cheese ball in the flour, the the egg, then the panko. Repeat until all cheese balls are breaded. 
Step 4. Fry each cheese ball for 2 minutes at a time or until golden brown. Drain on a paper towel and serve with marinara sauce. 
2021 Halloween Decoration Tips
Celebrate Halloween 2021 with Yescomusa
Last year, Halloween was no fun, this year, however, we have the opportunity to make up for lost time! Get into the Halloween spirit by decorating your home! You can decorate for Halloween, even if you have just a small space. Take a look at our guide to Halloween decorations in a small space. 
Fog machines for example can really change the mood of your room.