Here Are A Few Ways To Explore What America Has To Offer! 
 Before starting this guide, why not read it with a vibe ? Kickoff your summer right !
Beaches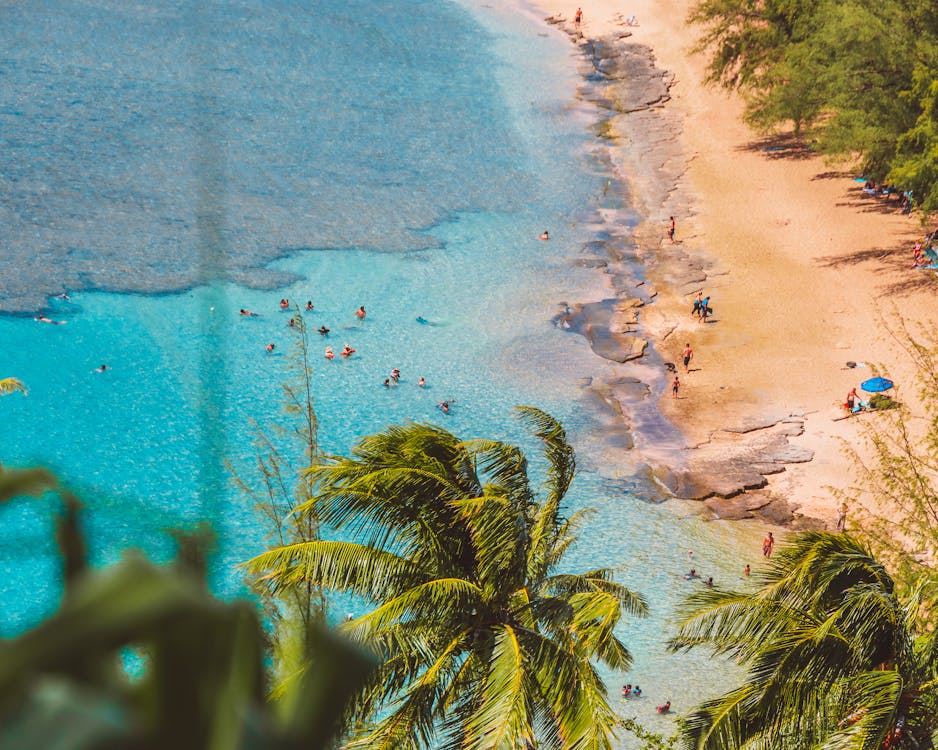 Take advantage of the summer heat and find a nice cozy beach to get a tan or swim away ! Need help finding the perfect beach ? Use https://www.theswimguide.org/  it will provide you with not only an in-depth description of any beach you want but also give a detailed synopsis of the water quality. While you're at the beach help protect our ecosystem by making sure to not leave any trash behind but also picking up any on your way. It will not make the beach clean but also prevent harm to any wildlife surrounding the ocean. The summer heat only comes around once a year so why not soak in all the fun while you can. Here are three quick tips on what you should bring for your fun in the sun.
Sunscreen 
It is highly recommended to bring sunscreen on your beach trips even if it doesn't feel like it's not hot enough for it 
a. Protects you from sunburns 
b. Helps even skin tone 
c. Prevents serious health related injuries such as skin cancer and overexposure 
Blankets, Towels, and Umbrellas                             
a. Sand can be a nice exfoliator for your skin but sometimes it's rough, course, and gets everywhere so why not grab a protective blanket to sit on and an umbrella to block the sun.
Snacks
a. Fruits !! - Sliced Watermelon, Grapes, or Apples are easy to share, provide hydration and don't require any utensils to enjoy.
While you're there bring some sports equipment for after the sun begins to set a bit. A frisbee is a great way to play with a large group of friends or family and the sand provides extra padding for any diving catches to come your way. A Volleyball is another great way to spend some time creating a fun competitive game with your friends as most beaches have volleyball nets pre established for you. Finally, enjoy the sunset and experience the "Golden Hour" at its finest as the sun sets over the watery horizon creating a mixture of colorful hues. Although, the sun may set, the fun can still continue! Most beaches have bonfire pits therefore ending your night with the sound of the crashing ocean with moonlight spreading over your smores creates the perfect summer weekend trip.
Here's a great Yescomusa solution to protect you from sand and provide shade to escape the heat!
Yescom Rainbow Beach Umbrella Tilt 6 ft 12-rib w/ Anchor
add to cart
Hiking
 Take some time and plan a nice hike at a local trail. Need help finding a trail ? Look no further use

https://www.alltrails.com/

 simply search the area that you want to hike or walk at and it will provide you with quality instructions and reviews on your next outdoor excavation. It's always a good idea to bring a companion with you on these hikes. You may never know the circumstance whether it be a wild animal or twisted ankle. You both can take care of each other. If you are an adventurer and prefer to go alone make sure you inform someone close to you which hike you're going to be on and for how long. Have your phone fully charged even though the signal may be difficult to reach at certain heights. Make sure you come prepared with enough water to keep you hydrated for a day full of hiking or camping. You'll need some trustworthy carrying capacity for your outdoor adventures so why not bring this waterproof backpack to keep all your goods safe

.
Enter to win this Yescomusa waterproof 55L hiking backpack! ⁠
⁠
⁠HOW TO ENTER⁠
Follow @YescomUSA on Instagram⁠

LIKE this post ⁠

Comment & tag a friend who should enter too ⁠
TERMS & CONDITIONS ⁠
Only one winner will be selected ⁠
Giveaway will run from the date of posting until 11:59 PST Friday, July 1, 2022⁠
Winner will be randomly selected and announced on Instagram @YescomUSA on Tuesday, July 5, 2022 ⁠
Giveaway limited to the United States⁠
This giveaway is not affiliated with Instagram⁠
-

-  
Have a BBQ
Before you start your party you're going to need some food and music to bring the 4th of July vibe to an all time high. Create a playlist with your favorite summer songs and if you want to go a step beyond allow your guests to que their songs by having them create a list of music they want. While your guest arrive to the BBQ will most likely won't be ready since it will have to be grilled but providing appetizers will be a nice touch to keep your guests satisfied while others arrive and the food begins to cook. Here is one great way to keep your guests fed and will feed plenty.  
Charcuterie Boards - These appetizers are easy to assemble with an addition to toothpicks or bamboo skewers will provide a Covid Friendly way to enjoy some snacks. This tasty snack requires almost no prep time at all, just set up roughly an hour before the party and don't leave it directly under the sun or unattended.
Cured meats 
Salami, Prosciutto, Pepperoni, Spanish Chorizo, Candied Bacon, Sliced deli ham
Pro tip: Fold the meat into ribbons or rolls to provide a unique tasty look to your board.
Variety of Cheeses
Soft Cheeses: Brie, Camembert, Boursin, goat cheese, Ricotta, Feta, cottage cheese, blue cheese.
Hard Cheeses: Cheddar, Gruyere, Parmigano, Pecorino, Gouda, Colby
 Crackers 
Crackers, Pretzels, Crostini, Sliced baguette
 Nuts 
Pistachios, Almonds, Peanuts, Pecans, Walnuts, Cashews
 Fruits 
Grapes, Strawberries, Figs, Cherries, Blueberries, Blackberries
 Dipping sauces
Jams, Preserves, Honey, Dips, Pesto, Hummus
Kill two birds with one stone by providing a nice outdoor shaded Gazebo with sidewalls nets to protect yourself, guests, and food from any pesky insects that want to join in on the 4th of July celebration. 
Gazebos are a great way to be outside while being comfortable. They are easy to set up and provide enough shade for all your guests. This 11' by 11' foot Gazebo contains enough space for tables, chairs and grills so that you can take advantage of the summertime evening. What's a party without a grill? Don't forget a nice portable electric grill that requires nothing but a plug, no emergency trips to the store to pick up propane just plug in and start cooking alongside your fellow patriots. This portable grill is easy to set up and clean ! No food will be falling through the grill grate and has everything you need to cook meat or vegetables while saving the environment by not using natural gas.
-
Yescom 11'x11' Ez Pop Up Gazebo Tent with Sidewalls Net
-
Yescom Electric Countertop Griddle Flat Grill 15in 1500W
add to cart
Safe Firework Habits

Last but not least FIREWORKS. A great way to end the night is by lighting some gunpowder but nothing is more important than safety. Here are three quick tips to make sure you have a safe 4th of July.
Keep a water source nearby like a water hose or bucket of water 
Keeping 6ft away is not only important for Covid safety but also to stay safe from the blast radius of any fireworks you have going off.

Always have supervision of your firework to ensure no sparks or unwanted fires start in your neighborhood. 
Here at Yescomusa we want to wish you all a happy and safe 4th of July Weekend. We hope we can provide you with everything you need for a great party and some outdoor comfortability.
We all know that during these times, the
new normal is different
. Step into the new year better than ever before. Honor the time you have with your loved ones, safely, and remember- a little creativity can go a long way. 
Don't burn out this summer! Enjoy our summer safety time and summer activities for adults the best way possible. Take the time to review our 
home and outdoor collection
! You can save more on our summer collection be sure to join our 
Yescom Rewards Program
. Learn about our new deals, releases, and promotions when you follow us on 
Facebook
 and 
Instagram
! Get connected and be prepared for the summer! 
PURCHASE- Earn 1 Reward Point for every $1 spent at Yescomusa
SAVE POINTS- Rack up points.
200 points=$10 off coupon
500 points=$25 off coupon
START SAVING- Turn in your coupons to save on future purchases! Points never expire, so you can redeem as you like
Follow us on Social Media for more Coupons, Savings, and Announcements

.
Like what you read or want to see more of a product ? Leave us a comment!