Yescomusa: Eco-Friendly Halloween Decorations
Yescomusa: Eco-Friendly Halloween Decorations
How To Have an Eco-Friendly Sustainable Halloween
Finally, it's October again, and you know what that means: HALLOWEEN. Time for Jack-o-lanterns, Trick or Treating, exciting costumes, and delicious treats! With one of our favorite holidays approaching we are excited to start having fun! However, we understand the importance of keeping a small carbon footprint, especially in today's climate. As always, Yescomusa would like to stay one step ahead of your needs and bring to you some eco-friendly and sustainable Halloween decoration ideas. 
Recycle Old Jack-o-Lanterns
Let's start off with the obvious: Jack-o-Lanterns! These traditional Halloween decorations are a common staple for this holiday. Carving your pumpkin with your family or friends is a time-honored custom that encourages bonding and creating worthwhile memories. Depending on the pumpkin, Jack-o-lanterns can last a long while, however, if it has been sitting out for more than 24 hours then you should not eat it. Here are some ideas on how to recycle your old jack-o-lantern! 
Compost Heap:

If you have compost, or if you are a gardener then using your old Jack-o-lantern as fertilizer is a great option. Simply chuck it into your compost heap!

Bury It Into Your Garden:

If you do not have a compost heap, you can simply bury it in your garden! Pressing it into the soil will add valuable nutrients to your soil which will help your plants grow!

Bird Feed:

Birds love chopped-up pumpkin, seeds, and all! Smash your Jack-o-lantern into smaller, digestible pieces and throw it into the woods, bushes, or bird feeder. 
Solar-Powered String Lights
Solar power is the best power! We all know that outdoor lights can improve the mood and atmosphere of the room or area. Solar-powered lights are a source of energy-efficient, no-worries, brightening system that'll turn your outdoor space into a fabulous Halloween display! Use these LED solar-powered lights to create a Halloween showcase all can enjoy. 
Yescom 100LEDs Solar Patio Christmas Holiday String Light
Container Ghost
Take your lighting game to the next level when you make DIY, light-up, container ghost! Reuse old milk containers, water jugs, and juice bottles to string together light-up ghost effigies! All you need is a marker, some string lights, and your juice jugs and you can craft a creative and fun myriad of ghost shapes that you can place in your yard, patio, or walkway. 
Head In A Jar
A hilarious, spooky, and decorative Halloween prop is a Head In A Jar! Making these creative and funny images are simple! Here are the steps to get started. 
Step 1: Take selfies, some of you and your family, and print them out on photo paper or laminated paper. 
Step 2: Get a mason jar and fill it with water, then at 3 drops of green food coloring. 
Step 3: Fold the image of your selfie and place it in the jar. 
Halloween HD projection Window Displays 
A Halloween window display is an extremely fun and creative way to decorate your home! Every home has a window so that makes it perfect for an HD window display! All you have to do is get an HD projector, and apply it to your window for a fabulous display of 3D animation! 
How Can We Help With Home Improvement?
Though we can't tell you how to get a home improvement loan or what home improvement loans can be used for we can help you with creating your fantasy home on a budget! Your home is where the heart is so it is vital to your mental health that you create a space where you can feel safe and grow. Whether you're living with family or alone, keeping a clean and organized home is a direct reflection of your mental state. Upgrade your home to upgrade your quality of life. 
Yescomusa is known for our high-quality home improvement and DIY merchandise. Our home improvement online store focuses on up-to-date home improvement trends and home improvement projects. Whether you're a beginner or an expert, you can discover new techniques and building strategies in our home improvement blogs. We focus on affordable upgrades. With a little creativity, you build your dream home within your budget. Home improvement help starts here. Check out our home and garden collection to get inspired. 
You don't have to break the bank to kick off your home improvement adventure! Start off small, even the simplest home upgrades can make a big difference. Whether you have a big home or a smaller apartment, you can change the entire vibe with a fresh coat of paint! Your home is your palace- take the time out to make it great. 
Halloween Fun With Yescomusa
Halloween in 2020 was different, but we still found plenty of ways to still have fun! Now that many states are reopening Halloween 2021 will be even better! Whether you're planning on a Halloween haunted hayride, a horror movie night, or just entertaining trick or treaters, make this year better than ever! Dress up in 2021 themed costumes, have a 2021 Halloween-themed party, discover 2021 Halloween-themed treats! 
Halloween will be here before you know it! All over the United States, restrictions are lifted which opens up the opportunity to have more fun! Last year, we've been adjusted and have made DIY drive-through haunted houses, drive-in home theatres, scavenger trick or treat hunts,  and many other physical distancing activities and experiences. Let this year be different. Theme parks and holiday events are open under strict guidelines but allow us to enjoy the holiday- after all, we deserve it. 
Check out our ultimate Halloween guide to DIY costumes and decorations.  
Last year, Halloween was no fun, this year, however, we have the opportunity to make up for lost time! Get into the Halloween spirit by decorating your home! You can decorate for Halloween, even if you have just a small space. Take a look at our guide to Halloween decorations in a small space. 
Decorating your home can be inexpensive and easy if you just use your imagination. For example, a DIY Halloween HD projection window display is simple to set up and requires virtually no cleaning up. There are also many last-minute Halloween decorations that make a BIG difference.
Fog machines for example can really change the mood of your room. 
Besides decoration, Halloween focuses on amazing costumes! Whether you're looking for DIY adult costumes, DIY kid's Halloween costumes, or costumes you can wear with a face mask, picking out the best costume is essential for any Halloween celebration. Use your imagination and creativity to pick out the best costumes! Let us help make your Halloween 2021 the best Halloween yet! 
Halloween Costumes 2021
2021 has brought us many unforgettable memories that can all be immortalized and parodied this Halloween! There were many viral moments that happened this year beginning with the surprising and shocking Gorilla Glue Girl incident to Netflix's spooky series Squid Games. Whether you choose to dress up like a celebrity or choose to pair your costume with your partner for a hilarious duo, a heat press machine can help you create a custom costume exactly the way you want it. Create fun and safe DIY kids costumes or creative adult costumes. 
Halloween Deep Fried Snacks | Fried Cheese Eyeballs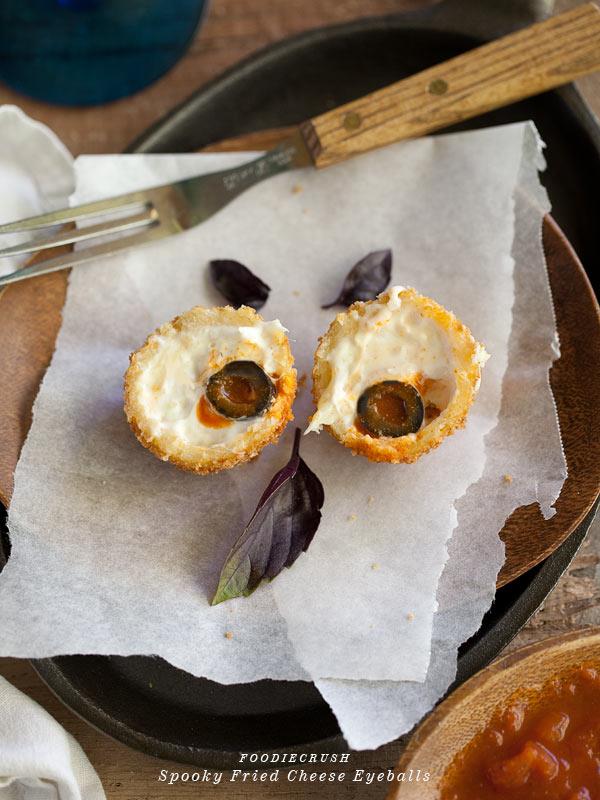 There is nothing tastier than delicious and tasty fried foods! Halloween gives us the opportunity to be creative with our food! It's time to try these delicious fried cheese eyeballs! The simple and easy recipe is as follows:
Ingredients
1 8- ounce package of cream cheese at room temperature

1 cup shredded mozzarella cheese

3 green onions whites-only minced

3-4 tablespoons Cholula or Frank's Red Hot Sauce

10-15 small black olives

¼ teaspoon kosher salt

½ cup flour

2 eggs

1 cup panko bread crumbs

3 cups canola oil
Directions
Step 1. Mix cream cheese, mozzarella, and the white of green onions in a large bowl. Use an ice cream scooper to scoop out the cheese mixture.  Stick an olive in the middle of the cheese, hole side up. Fill the hole with hot sauce then cover with a spoonful of the cheese mixture. Mold into a ball and drizzle with more hot sauce. Repeat until the mixture is complete.  
Step 2. Heat Old in deep fryer to 350 degrees 
Step 3: Collect 3 shallow bowls. Fill one bowl with flour, one with whisked eggs, and the last with panko bread crumbs. Dip a cheese ball in the flour, then the egg, then the panko. Repeat until all cheese balls are breaded. 
Step 4. Fry each cheese ball for 2 minutes at a time or until golden brown. Drain on a paper towel and serve with marinara sauce. 
In addition to delicious deep-fried dishes, try these healthy Halloween snacks! Get a creative design for a Halloween vegetable platter as a crispy and fresh appetizer! 
2021 Halloween Decoration Tips
Decorating for Halloween is one of our favorite traditions of the holiday. You can decorate for Halloween even in small areas.  As a matter of fact, there are many DIY Halloween decorations that you can cater to your needs.  Halloween is a great time to decorate! Take a look at our Eco-friendly Halloween Decoration and last-minute Halloween decorations to get into the Halloween spirit! Halloween is all about the color scheme. Take a look at these modern-day coloring tips and ideas for Halloween decor. 
Yescomusa Dominates the Wholesale Market 
Are you interested in wholesale products? Then you know that not all wholesale distributors are created equal. While many wholesale vendors have suffered during 2020, we have strived to put the needs of our customers first. As a result, not only have we been able to withstand the negatives of 2020, but we've grown our wholesale client base.
Though 2020 has presented many wholesale suppliers with challenges such as slow delivery, low inventory, and staffing issues, we have focused on our wholesale buyers and provided them with various options that we are sure will help them succeed. Whether you have a home business, retail storefront, or offer a service, Yescomusa can help. Check out our office supplies, home goods, sporting goods, and electronics. We have what you need for your business.   
Save More This Fall With Yescomusa 
We all know that during these times, the new normal is different. So step into the new year better than ever before. Honor the time you have with your loved ones, safely, and remember- a little creativity can go a long way. 
PURCHASE- Earn 1 Reward Point for every $1 spent at Yescomusa
SAVE POINTS- Rack-up points.
200 points=$10 off coupon
500 points=$25 off coupon
START SAVING- Turn in your coupons to save on future purchases! Points never expire, so you can redeem as you like
Follow us on Social Media for more Coupons, Savings, and Announcements.