Safe Trick-or-Treating Practices and Alternative
2020 has come with a lot of twists and turns engaging more of us to take Halloween into our own hands. With all of the new normal adjustments being made, you may not understand what is open in your state. A lot is changing, and many parents are changing trick-or-treating into an at-home or physical distancing scavenger hunt! 
A scavenger hunt is a perfect solution to physical distancing trick or treating, this is because it can be done indoors with a small intimate group or outdoors in a yard or park. The game's clues can be modified to challenge the age group that is playing. Be sure to stay safe; here's how you get started:
Pick the Perfect Halloween Setting   
Depending on your age group and where you plan on having your trick or treating scavenger hunt, determines the time you should have your party. If you are planning on having your scavenging event outside, you should plan on saving enough daylight so that the participants can easily find the next clue. 
Choose a Theme and the Rules 
Select a common theme for your scavenger hunt so your players know exactly what they should be looking for. Some popular Halloween themes include zombies, pirates, vampires, and ghosts.
Whatever you decide, use a heat press machine to customize your clues with a specific symbol so your players are sure they've found the right clue. 
Likewise, you should also decide the rules of your scavenger hunt. You can either have a free for all and have everyone just search for random clues and prizes, or you can set up clues that lead the group in a certain order. 
Keep Track of all your Hiding Spots 
Never forget your hiding places- that will completely ruin your party! Place prizes in custom bags so know exactly which treats belong to your party. Create a list of hints that vaguely describes the location of the prizes. Hide candy bags in Halloween props such as plastic zombies or ghostly figures. Give players their own list of clues, or read them out loud and have everyone hunt as a group. 
Ways to Play
After you've hidden all of your candy bags here choose which way you want to play:
Free for all. Finder's keepers! This style of game is a race to the finish! There are no clues, and the first person who finds the prize wins! Usually, the game is based on speed and sight rather than witts, but the games are over quickly and an extreme adrenaline rush. 
Group hunt. One person holds the list of clues and announces them to the group. Each person hunts individually and is out of the game once they found their prize. This is a fair way to ensure that everyone gets a prize and that no one leaves the party upset. 
One-person team. Each person gets their own generated list of clues. Each prize will contain a clue that would lead to the next one. The first person that finds all 3 clues and collects all 3 items wins the grand prize! 
How to Stay Safe While Trick or Treating
If you're planning your trick or treating scavenger hunt outside then you're going to have to take extra precautions. Here is a list of a few safety precautions you need to take when you plan your outside scavenger hunt:
Continue to practice physical distancing rules and stay 6 feet away from anyone who is not immediate family 

Adhere to face-covering rules 

Clean hands frequently, especially before and after eating 

Encourage costumes with face coverings and gloves 

Inspect and sanitize Candy that is given to you 
How to Give Away Candy Safely 
If you decide to stay home this Halloween, but still want to participate in the holiday then there are a few safety precautions that you should consider. Here is a quick guide to celebrating the holiday at a safe distance. Here are a few tips on how to get started: 
Do not participate if you are sick 

Wear a face covering that covers both your nose and mouth 

Tape 6-foot lines on your sidewalk and around your home 

Use a candy dish, tube pole, or net to distribute candy 

Wash your hands frequently 
Halloween Costumes 2021
2021 has brought us many unforgettable memories that can all be immortalized and parodied this Halloween! There were many viral moments that happened this year beginning with the surprising and shocking Gorilla Glue Girl incident to Netflix's spooky series Squid Games. Whether you choose to dress up like a celebrity or choose to pair your costume with your partner for a hilarious duo, a heat press machine can help you create a custom costume exactly the way you want it. Create fun and safe DIY kids costumes or creative adult costumes. 
Halloween Deep Fried Snacks | Fried Cheese Eyeballs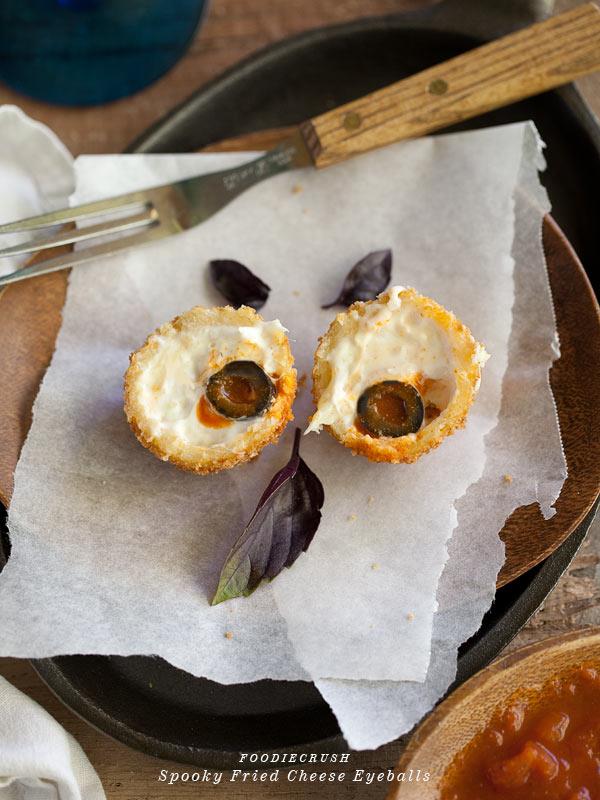 There is nothing tastier than delicious and tasty fried foods! Halloween gives us the opportunity to be creative with our food! It's time to try these delicious fried cheese eyeballs! The simple and easy recipe is as follows:
Ingredients
1 8- ounce package of cream cheese at room temperature

1 cup shredded mozzarella cheese

3 green onions whites-only minced

3-4 tablespoons Chohula or Frank's Red Hot Sauce

10-15 small black olives

¼ teaspoon kosher salt

½ cup flour

2 eggs

1 cup panko bread crumbs

3 cups canola oil
Directions
Step 1. Mix cream cheese, mozzarella, and the white of green onions in a large bowl. Use an ice cream scooper to scoop out the cheese mixture.  Stick an olive in the middle of the cheese, hole side up. Fill the hole with hot sauce then cover with a spoonful of the cheese mixture. Mold into a ball and drizzle with more hot sauce. Repeat until the mixture is complete.  
Step 2. Heat Old in deep fryer to 350 degrees 
Step 3: Collect 3 shallow bowls. Fill one bowl with flour, one with whisked eggs, and the last with panko bread crumbs. Dip a cheese ball in the flour, then the egg, then the panko. Repeat until all cheese balls are breaded. 
Step 4. Fry each cheese ball for 2 minutes at a time or until golden brown. Drain on a paper towel and serve with marinara sauce. 
In addition to delicious deep-fried dishes, try these healthy Halloween snacks! Get a creative design for a Halloween vegetable platter as a crispy and fresh appetizer! 
2021 Halloween Decoration Tips
Decorating for Halloween is one of our favorite traditions of the holiday. You can decorate for Halloween even in small areas.  As a matter of fact, there are many DIY Halloween decorations that you can cater to your needs.  Halloween is a great time to decorate! Take a look at our Eco-friendly Halloween Decoration and last-minute Halloween decorations to get into the Halloween spirit! Halloween is all about the color scheme. Take a look at these modern-day coloring tips and ideas for Halloween decor. 
2020 Trick or Treating with Yescomusa
Just because Halloween is going to be different this year, doesn't mean it can't be memorable! Celebrate this holiday safely by taking extra precautions and remembering to care for one another. Get your costume ready and while you're at it check out our fabulous Halloween collection and get inspired by our merchandise! Save on purchases when you join our Yescom Rewards Program and follow us on Facebook and Instagram for coupons and other sales information.
Celebrate Halloween 2021 with Yescomusa
Halloween in 2020 was different, but we still found plenty of ways to still have fun! Now that many states are reopening Halloween 2021 will be even better! Whether you're planning on a Halloween haunted hayride, a horror movie night, or just entertaining trick or treaters, make this year better than ever! Dress up in 2021 themed costumes, have a 2021 Halloween-themed party, discover 2021 Halloween-themed treats! 
Halloween will be here before you know it! All over the United States, restrictions are lifted which opens up the opportunity to have more fun! Last year, we've been adjusted and have made DIY drive-through haunted houses, drive-in home theatres, scavenger trick or treat hunts,  and many other physical distancing activities and experiences. Let this year be different. Theme parks and holiday events are open under strict guidelines but allow us to enjoy the holiday- after all, we deserve it. 
Check out our ultimate Halloween guide to DIY costumes and decorations.  
Last year, Halloween was no fun, this year, however, we have the opportunity to make up for lost time! Get into the Halloween spirit by decorating your home! You can decorate for Halloween, even if you have just a small space. Take a look at our guide to Halloween decorations in a small space. 
Decorating your home can be inexpensive and easy if you just use your imagination. For example, a DIY Halloween HD projection window display is simple to set up and requires virtually no cleaning up. There are also many last-minute Halloween decorations that make a BIG difference.
Fog machines for example can really change the mood of your room. 
Besides decoration, Halloween focuses on amazing costumes! Whether you're looking for DIY adult costumes, DIY kid's Halloween costumes, or costumes you can wear with a face mask, picking out the best costume is essential for any Halloween celebration. Use your imagination and creativity to pick out the best costumes! Let us help make your Halloween 2021 the best Halloween yet!